Rod's Western Palace
Columbus, Ohio
Rod's Western Palace is your source for everything Western, from Western apparel and tack to unique Western gifts and home décor. We have everything for the horse lover (whether you own horses, aspire to or just admire them) and we can outfit your horse and stable as well!
Rod's Main Store and Rod's Tack Barn
Our retail space has grown over the years from 4,000 to the 20,000 square feet it covers today which includes the Rod's Tack Barn located behind the main store. We have become one of the leading Western apparel and tack stores in the country. We offer a truly unique experience and are a must-see for any western or horse lover.
We're located in Columbus, Ohio, the home of the annual All American Quarter Horse Congress, just 1½ miles north of the State Fairgrounds on the west side of I-71 at North Broadway (Exit 114).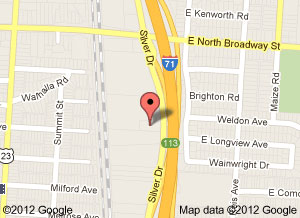 Store Hours
Monday - Saturday 10:00 a.m. until 6:00 p.m. Eastern Time
Sunday 12:00 noon until 5:00 p.m. Eastern Time
Closed all major holidays
Map and Directions
Rod's History
Established in 1976, Rod's is a family owned and operated company. In the early 90's Rod's launched the mail order catalog and online operation (Rods.com), making sure customers have everything they need at their fingertips. Customers enjoy easy ordering around the world. We no longer mail catalogs, but our eCommerce operation is much larger than our stores. However, the store will always be the apple of our eye. Besides, you just can't hear the floors creak and enjoy that great smell of leather from your computer. So we hope if you are ever in the Columbus area that you will pay us a visit and let us give you a warm western welcome!
Stay in Touch